Mend for Good
Changes Bristol's own unique fundraising event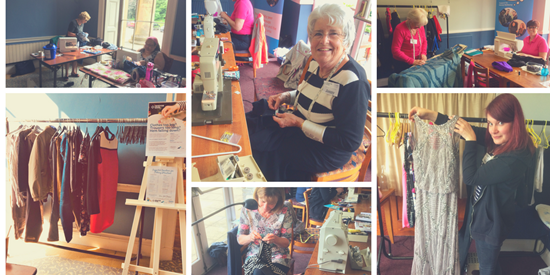 This sewing event is held in our supporters offices where we provide a pop-up clothing alteration and repair service for employees in exchange for a donation to our charity. It's a great way to talk to staff about mental wellbeing whilst providing a useful and convenient repair service!
We bring a team of skilled, experienced and creative sewing volunteers to you – whether this be an office, school, gym.  
We'll do the mending in exchange for a donation to Changes Bristol. This will help deliver our free peer support groups for those with mental health distress. Bring your gear to work. The Mend For Good team will review, measure and mend.

"
Mend for Good would be very well received if we held it again. It was so well organised by Changes Bristol, who provided lots of promotional material which really helped us to promote it internally."
Paula Banks, Osborne Clarke
Which businesses have hosted a Mend for Good event?
We have succesfully hosted this fun event at a number of Bristol workplaces including Burges Salmon, E3 at The Paintworks, Business West,Osborne Clarke, Rolls Royce, PwC, Lloyds Banking Group and The Bristol Golf Club.  We have dates in the diary to host the event at TLT Solicitors.
Want us to come to your office or workplace? Please contact fundraise@changesbristol.org.uk or download our Event Venue Information Pack.
Want to join our team of sewing volunteers?
We are always on the look out for talented sewing enthusiasts to join our team of fantastic volunteers. Find out more on our volunteer page.

Registered address
Changes Bristol
Barton Hill Settlement
41-43 Ducie Road
Lawrence Hill
Bristol
BS5 0AX
Charity Details
Registered Charity Number
1167828
Registered Company Number
08914724
Copyright © Changes Bristol 2019 | Cookie policy |  Privacy Policy