Mend for Good Sewing Volunteer
We are always on the look-out for for experienced sewing volunteers to help with Changes Bristol's own unique fundraising event.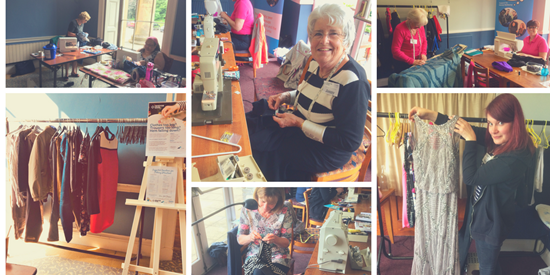 Mend for Good helps raise funds and awareness for mental health in Bristol by providing a pop-up clothing alteration and repair service for employees at the offices of our supporters. It's a great way to talk to staff about mental wellbeing whilst providing a useful and convenient repair service in exchange for a donation.
We simply couldn't run this event without the commitment of talented volunteers, so if you think this might be you – please get in touch. 

"
An exciting, fun and varied day where I feel I'm really making a difference not just to clothes but to the city!"
Sarah, Mend for Good Volunteer
How does the event work?
We set up camp in office foyers or in sports clubs and offer a clothing repair and alteration service in exchange for a donation to the charity. Our sewing volunteers offer services such as fixing buttons, zips and torn linings, to altering hems, cuff and collars. You are able to choose which garments you feel confident repairing/ altering. Occasionally more complex requests include downsizing tailored jackets, and dresses.
We generally have about 4-6 volunteers per day per event and try to ensure that at least one of our volunteers will be an experienced professional to help with anything particularly tricky. We are looking for volunteers who are confident making alterations to clothing garments.
What do we ask volunteers to provide?
We ask volunteers to bring their own sewing machines, a sewing lamp and tools (scissors) etc, but we provide some thread and ask the participants to bring any replacement buttons/ zip's / patches etc along with their garments if they need these types of repairs doing. Ideally each volunteer will be able to volunteer for a whole day, however we can be flexible.
It's a fun event and we've had great feedback from our current volunteers! Lunch and refreshments are provided for our hardworking volunteers. Transport can be provided too.

Registered address
Changes Bristol
Barton Hill Settlement
41-43 Ducie Road
Lawrence Hill
Bristol
BS5 0AX
Charity Details
Registered Charity Number
1167828
Registered Company Number
08914724
Copyright © Changes Bristol 2019 | Cookie policy |  Privacy Policy