Changes Bristol has an ongoing connection with clothing, making and repairing; having run projects such as Mend for Good, clothe swap fundraising and Meet and Make, Mend workshops. Therefore it seemed fitting for us to partner with Sustainable Fashion Week (SFW). Sustainable Fashion Week will run from the 11th – 19th September with a focus on equipping the community for a more sustainable relationship with fashion.
The team at Sustainable Fashion Week spoke to us to share their aims and how this connects with mental wellbeing, find their response below:
Mental health is included as part of the 17 Sustainable Development Goals set out by the United Nations in 2015. For the first time in history, this collective global commitment referred to mental health under goal 3 (target 3.4); which focusses on good health and wellbeing. This represents a unique, global opportunity to increase our understanding and quality of services related to mental health. 
The SDGs are at the centre of what The Sustainable Fashion Week (SFW) is all about. SFW Bristol is a community led, volunteer driven week of creative activity in the city, to celebrate sustainability in fashion. SFW will create a programme of activity that will be based on up-skilling, inspiring and empowering the community in changing in our relationship with fashion. SFW is thrilled to be partnering with another community driven organisation like Changes Bristol. We believe that working on the ground within the community to help generate grass roots action is the best way in which to empower and support people to make lower impact fashion choices. 
How is it sustainable fashion is linked to mental health?
The fast fashion business model with its take-make-waste way of operating can fuel feelings of anxiety in not being able to keep up with the latest trends. This is further exacerbated by social media, as new trends are not just on the high street but also constantly with us on our phones, wherever we go – which can leave us with a constant feeling of 'I need this, now!'. 
Social media can be further damaging in creating an air of shame about how you shop. Its undeniable that sustainability in fashion has been a hot topic for a couple of years now, and there seems to be an overload of information readily available at our fingertips. Does this create some sense of guilt in how and where we shop when scrolling through Instagram? 
Shopping can leave you with short, psychological thrills. But the excessive shopping that fast-fashion centres around can too easily leave you with a room full of clothes you have not worn, or even looked at in months, and a feeling of guilt and dissatisfaction. A slower, more sustainable relationship with clothing can carry with it a number of long-term feel-good factors.
Let's look at some of the SFW themes and how they might make us feel good: 
#Rebel: I think it is fair to say we have all had some feelings of powerlessness and not having your voice heard in some way or another. 'Climate Anxiety' is becoming an increasingly popular topic of conversation, especially amongst younger people who feel more and more as though they will be the ones to live through the devastating effects of climate change. However, these feelings of powerlessness and anxiety can be channelled in positive ways. Choosing to make a stand about an issue – regardless of how big or small, public or private – can be a way to channel those feelings into activities that can help make you feel as if you're making a difference. Activism can be anything from thinking before you buy a product, to writing blog posts and campaigning through any actions you can make.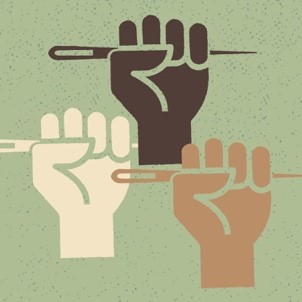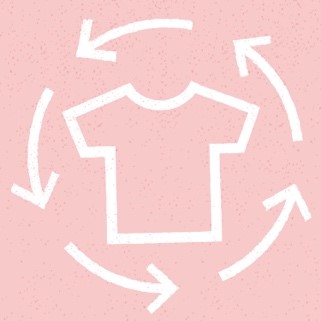 #Re-wear: move away from the fear of being caught re-wearing the same outfit twice, and dress yourself happy. Studies show that when we feel good and comfortable in what we wear, our confidence increases, and our general outlook is more positive too. Many people refer to this as 'dopamine dressing'. Ultimately wearing whatever makes you comfortable and feel good is important for your well-being. Whether it be those jogging pants, a colourful jumper full of holes, or a special occasion dress. 
#Re-purpose: mending or re-purposing clothes you already have can be a really fun challenge to set yourself. There have been a number of studies that indicate sewing can reduce feelings of stress, plus its meditative action encourages mindfulness, feelings of relaxation and accomplishment. You may have saved some money in fixing an old garment, and each time you put that piece of clothing on it will act as a comforting reminder of the task you completed! Another positive to mending and re-purposing, is that there are a number of sewing groups and knitting circles available to join. A place (virtual or otherwise) to share skills, have a chat, and meet some new people with the same interests can be a great tool for combatting feelings of loneliness and isolation.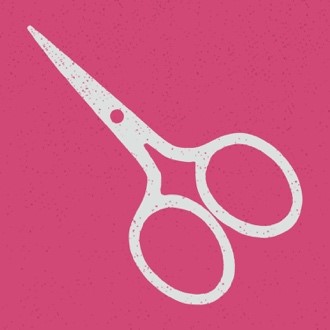 Skills sharing is an integral part of how different cultures engage with each other and create a sense of belonging and community: which can create a further feel-good factor. What we chose to wear can say something about us, and those we interact with. In this respect, clothing is a massively important part of our identity. A piece of clothing has the power to align us with a particular group and dissociate from others. However, the process itself of making clothes cannot be done without intergenerational skills sharing and bringing people together. From the growing of fibres, to weaving the materials, embroidering, knitting, sewing and to its final destination to be worn; each bring together people in that they have collectively been a part of the garments journey. Both SFW and Changes, have core values centred around bringing communities together and making sure everyone feels equally valued and represented. 
Changes Bristol will be partnering with Sustainable Fashion Week on various projects, please connect with us if you have a project in mind – fundraise@changesbristol.org.uk