Can you sew and want to help us to make a quilt?
Our amazing volunteer Debbie has agreed to create a quilt which will help with Changes Bristol's fundraising needs. She is asking for help in making the patchwork blocks which will be made into a quilt, created by the community of Changes supporters. We will offer the finished quilt in the Changes Quilt Raffle in October to raise vital funds to help support people in mental health distress.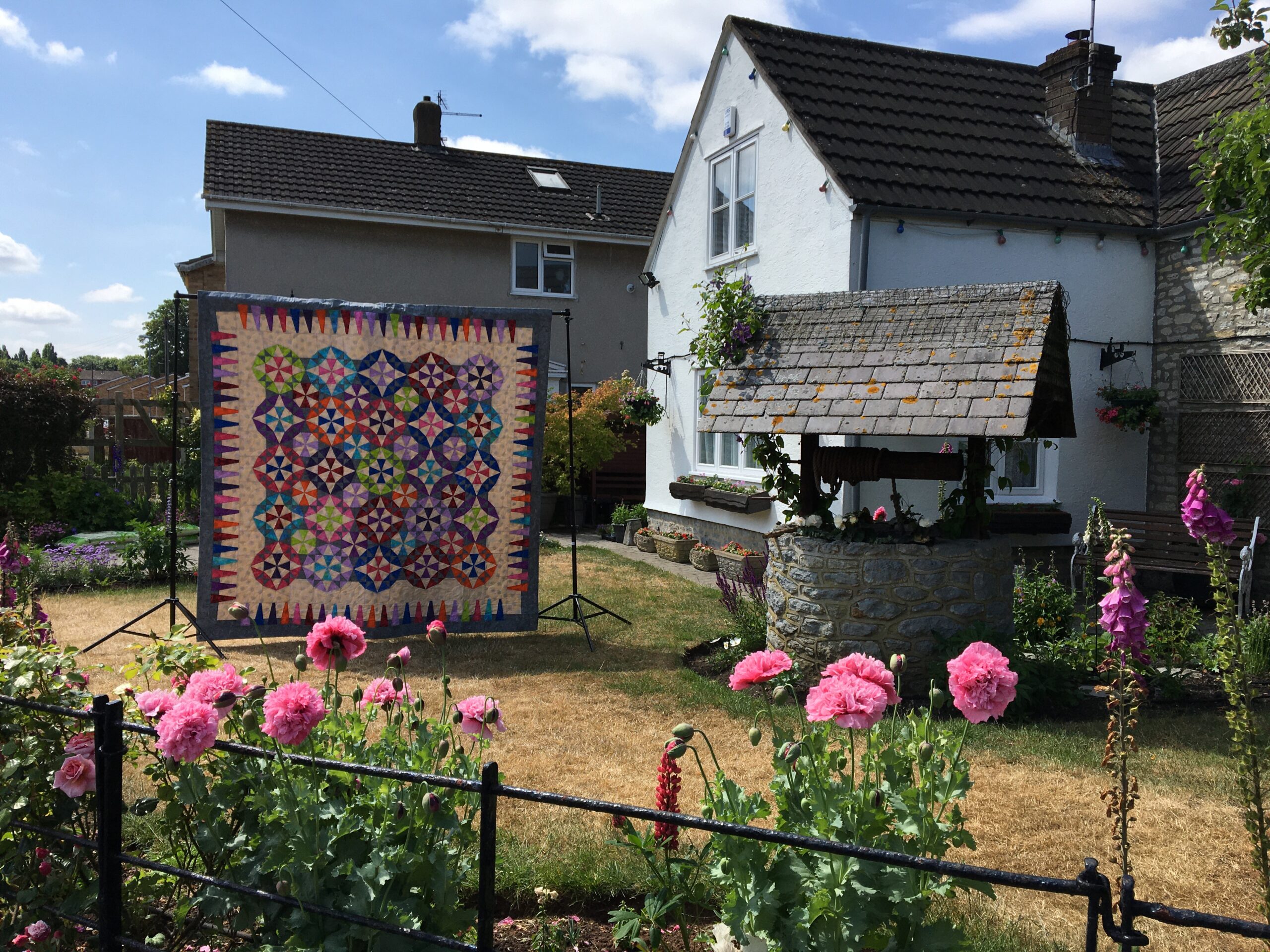 "I've been volunteering with Changes for nearly 12 months and I love it. I especially enjoy the group meetings, where everyone gets a chance to share how they are. The members are so kind and supportive to each other. It's a safe space to talk about mental health, life challenges and also to share tips and success.
Just £10 (2x raffle donations) will pay for someone to receive their weekly call from a trained Befriender, checking in on their wellbeing and easing feelings of isolation.
I've been sewing for 9 years and find it such a helpful way to support my mental health. The creative process allows me to take time away from everyday life and I get so caught up in sewing. Designing and creating items is a real joy, and I find it gives me focus and structure to my day. I'm grateful to have been able to turn my hobby into a business, and the new lifestyle means I can take better care of myself and my family."
Help us build a stripy rainbow quilt 
Please make one (or more!) 8.5 x 8.5 inch patchwork blocks in one colour using the method below. Use 100% cotton in bright colours – left over/scrap fabrics from other projects are perfect. Solid/plain fabrics or fabrics with small patterns are great (please avoid large patterns if possible) in one of these colours per block – red, orange, yellow, green, light blue, dark blue and purple (violet).
You can make as many blocks as you want – please make a range of colours if possible.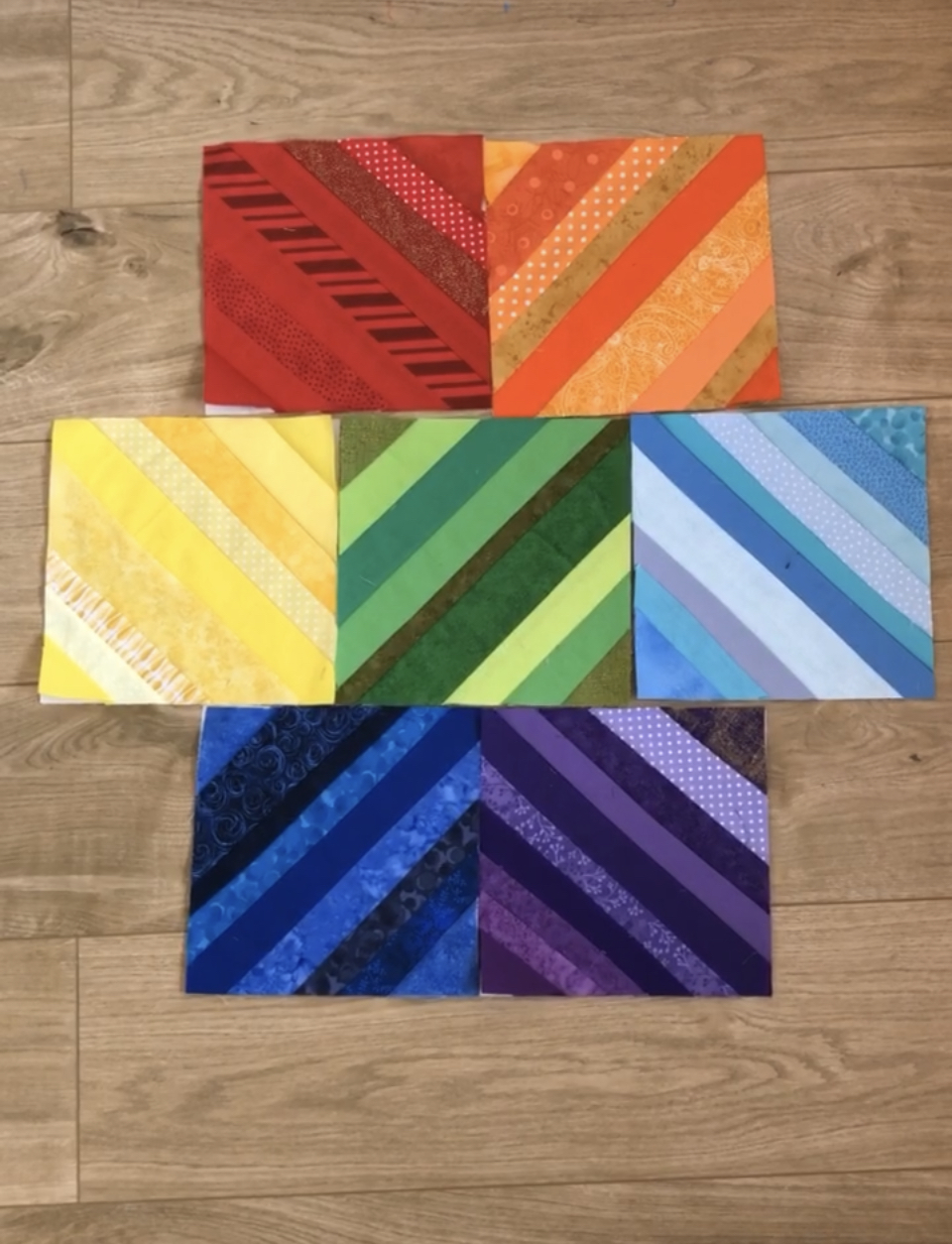 How to make a quilt square
Fabric requirements:
Background cotton fabric (any colour, won't be seen) 9 inch square
Strips of cotton fabric in your chosen colour. Width between 1.5 and 2.5 inches. (Longest length needed is 13 inches)
3 inch squares for corners (cut on diagonal)
Instructions:
On your 9 x 9 inch background block, lay the first colour strip right side up, diagonally corner to corner. (pin or use small amount of fabric glue to hold in place).
Take next strip and lay right side down on top of centre strip, matching raw edge and sew along that raw edge (using a ¼ inch seam allowance if possible) – ensure the strip covers the background fabric
Open out the strip of fabric and use an iron to press flat
Add next strip right side down, matching raw edge and sew along diagonal. Open out and iron flat.
Continue adding strips of fabric on both sides until you get near corners. At each stage ensure the new strip will cover the background fabric.
For the corners cut a 3 inch square on the diagonal. Sew this piece as above (place right side down and match raw edge).
Once the background fabric is covered, iron well and turn over. Cut the excess using the background fabric as a guide.
If you feel confident cut the square to 8.5 x 8.5 inches (cut from all 4 edges to ensure the first strip stays in centre of block). The blocks can be trimmed when quilt is assembled so don't worry if you don't feel confident to do final trim.
Take a photo of your finished block(s) so you can identify them in the final quilt!
When you've made your block(s) please send to: Changes Bristol, Barton Hill Settlement, 43 Ducie Road, Lawrence Hill, Bristol, BS5 0AX
We have added a video below to show the instructions. If you have any questions do contact Debbie:
Debbie@PatchworkLady.com
www.instagram.com/PatchworkLady_
If you have any questions, or have another crafty fundraising idea to help Changes Bristol that you'll like to share with us, please get in touch with us via email – fundraise@changesbristol.org.uk
Fancy winning the quilt?
If you fancy your chance at winning this beautiful quilt, then simply make a donation (£5 per name draw – you can donate more for multiple draws and a higher chance of winning) at our Justgiving page and you will be entered in to a draw to win the quilt!